I feel like I say it every weekend, but I can't believe how fast weekends go by. This weekend was super productive around the house, which is great considering I feel like it is always a disaster during the school year.
When I got home from work on Friday, I got the best piece of mail to date. I received a scholarship to attend college to become a teacher. The deal was I received the scholarship and then taught for 4 years in North Carolina or would have to pay back the scholarship. I decided to fulfill my obligation and I received my notification that my balance was at zero! I was elated, and so were my parents.
Friday night, DG sent me a text and said he had an idea for date night. When he got home, he told me that Bull Durham was being shown outside at the
North Carolina Museum of Art
. DG had never seen Bull Durham and the weather was perfect for watching a movie outdoors so I'm giving him major props for this idea. P.S. have you ever tried Hell or High Watermelon? If not, do it.
Saturday, I got to go wedding dress shopping with my Buffalo friend! She's getting married in September of 2015 and I'm so excited! She has the best style, ever. She always looks like a walking Free People or Anthropologie ad, so it was great to see her taste in wedding dresses. After wedding dress shopping, we went to
Serendipity Deli
in downtown Cary. I forgot to take pictures, but my goodness it was delicious!
I wish I could say Saturday was more interesting after that, but I came home, took a nap before DG and I ran out to get materials for some of our projects.
Sunday, we finished up some house projects. Here's what I have to show for that:
I put together my new
Shark vacuum
. Is it bad that this was one of the highlights of my weekend?
Here's a sneak peak at my desk area.
Also, today is my 9 year friendship anniversary with my BFF ALB. She's the one who got me this bracelet last year, which was what she wrote in my 4th anniversary card. There aren't really words I can put to my friendship with her.
Don't forget to link up with
B
& me today!
And tomorrow some awesome blogger friends and I are hosting an awesome giveaway! Here's the sneak peek!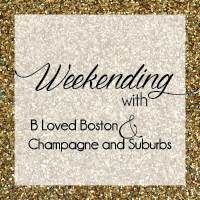 xoxo,

Labels: my life