I finally had a weekend where I had a day without any obligations!
Friday night, I had a late night at work in the freezing cold, but I did get to see some friends. I didn't get home until 11:00PM, so no pictures to show.
Saturday, I slept in, which is really rare around here for me. I woke up and got ready to run some errands. Fun fact, I'm modeling in a fashion show in December, so I headed over to Cameron Village to get fitted for the outfits I'll be wearing.
After that, I went to Crabtree to pick up the duvet from
Pottery Barn
I've been eyeing for months. I know it's No Spend November, but DG and I are having guests to our house for Thanksgiving now, and we wanted to finish up the master bedroom.
I got home and DG and I finished everything up in the master bedroom. We're both pretty smitten with the deer I picked up from
Stylish Living
.
P.S. Don't forget about my giveaway with SL. Ends Wednesday!
I am super pumped about the new necklace and bracelet I got in my
Rocksbox
(more to come on this in a later post). Can you tell I'm obsessed with this piko tunic from
Vestique
? I wear this at least once a week.
Winston and I got some lounging time in, too.
Sunday, I worked and put together a grocery list for Thanksgiving.
Congratulations to Kelly at
Runnin' in Scrubs
for winning the
White Gloves and Collards
:
A Memoir
audio book giveaway!
How was your weekend? Link up with
Biana
and me and tell us all about it.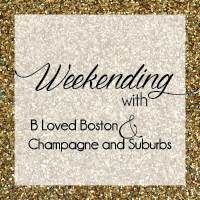 xoxo,