Good morning, y'all! Today kicks off the last week of the semester before exams start. I cannot believe how quickly this semester flew by. Here's how my weekend went down.
Friday was a teacher workday. So, I headed in to preview a film, grade some projects, clean up my classroom, and finalize the last week of the semester.
Friday night, DG and I ran a few errands and came home to cook dinner and relax watching TV.
Saturday, I worked, graded more projects, did laundry, cleaned up around the house, and did some yoga.
I also was really proud of myself because DG and I were invite out with some of my favorite friends, and I said no. It felt so good.
Sunday, I graded more projects, finished laundry, grocery shopped, scheduled some blog posts, and just did some final planning. Sunday night, the wonderful owners at Stylish Living took us to dinner for the holidays. We went to Paisan's, which is a new to DG and me restaurant. I orderd gnocchi with gorgonzola cream sauce and DG got lasagna. It was so so delicious, I didn't have time to snap a picture.
How was your weekend? Link up and tell Biana and me.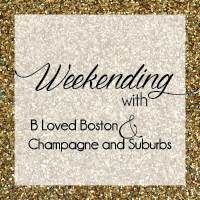 Labels: my life