Happy Monday, y'all! I hope your weekend was equal parts relaxing and fun!
My weekend started late on Friday because I worked Friday night, so I crashed as soon as I got home.
Saturday morning, DG and I were up and at 'em taking care of things around our house. If you follow me on Instagram, you may have seen that DG, Winston, and I added a new member to our household. Gizmo came home with us from the Wake County SPCA and we are over the moon excited about him. DG and I spent Saturday getting him and Winston acclimated to each other and to us.
Side note: If you've been over here for a while, you know I'm a crazy dog lady. Winston has always been such a good dog, but DG and I are even more proud of him now. He's seriously the best.
Sunday was my BFF Lindsey's baby shower. Lindsey has endured so much and I am over the moon that she is expecting baby G in June. I can't wait to meet that precious babe.
I had the best time picking out these fun gifts and that adorable Rifle Paper card. Some deets here:
And finally for a little sappiness. This space has been so much more than I ever imagined in my wildest dreams. I recently hit some milestones with followers on Bloglovin', GFC, and Instagram, so I decided to say thank you with a giveaway of a few of my favorite things. I like my giveaways to be items that are my personal favorites so you can try them out and hopefully love them as well.

Giveaway will run until next Monday and will be announced Wednesday, May 27. Winner has 24 hours to claim.
a Rafflecopter giveaway
Now it's your turn! Link up with us and tell us about your weekend!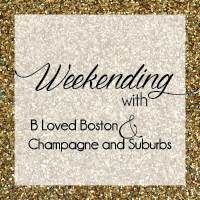 Labels: my life