It's been a while since I've done a coffee talk post, and considering how I'm feeling a little bit burnt out, I thought this was a good time to air out some feelings.
I literally don't know where time goes. I wake up and think I'm going to cross off everything on my to-do list, and I'm lucky if I cross off one. I seem to get sucked into things because my attention span and atention to detail take me longer than I anticipate.
I feel like I haven't seen or talked to DG in weeks. One of my favorite parts to our relationship is how independent we both are, but I haven't seen him in almost a week and a half because of our various travels. We also don't talk on the phone much. It's just not our thing. We'll send pictures and quick little messages, but a full fledge conversation? It just doesn't happen. I'll admit, I'm missing him badly. Charleston seems like 3 months ago when we had some time to ourselves.
In the summer, I find myself wanting to do home updates and organizational projects because I put them off during the school year to wait for when I have more time. However, not getting paid for 2 months puts some of the major things on hold, which feels like an endless cycle.
Gizmo is adjusting and becoming an awesome little dude, and at first, Winston had lost some of his personality. It was almost like he felt like he had to protect G and he didn't want to hurt him when playing with him. But now that G has gotten bigger, W is back to himself. But there are still moments where he will act "mature," which is kinda hysterical.
I haven't really opened up on my blog about a few things that I'm passionate about because I worry about offending someone or for overstepping my boundaries as a public school employee. I've been feeling a little defeated because when I verbalize things that I am passionate about, I feel like people don't take them seriously. It's been weighing heavily on me, but while in Atlanta, I had an opportunity arise. I don't want to divulge too much, but it was like everything I've been feeling came together and gave me hope. Positive thoughts regarding that would be great! You know, because it is part of my 30 before 30 to pursue my passions more. :)
Speaking of which, I've decided that I want to be Joanna Gaines when I grow up. DG and I love watching Fixer Upper. We've gotten some ideas for updates to our house from them, but also for the type of house we want moving forward (another one from my 30 before 30 list).
About a week ago, I realized that I am struggling with my 2015 goals. My goals of saying no and doing more of what makes me happy are not happening again. I am not doing well on being punctual because I overbook myelf trying to squeeze in as much as I can in one day. It's the biggest reason I'm burnt out and I'm looking forward to focusing on my goals again.
I am finding myself becoming more of a homebody again, and I don't hate it.
I am wanting this journal to keep my thoughts in for reflection. I think reflection is so important for personal growth.
I can't stop painting my nails this color (and it's on sale)!
I heard one of my all-time favorite songs Monday night and I forgot just how much I loved it. Southern rock always reminds me of my times in eastern North Carolina.
I was looking back through my last two coffee talk posts, and it is ironic to me that a lot of the feelings are still the same (Part 1 // Part 2).
What's on your mind today?
Linking up with Joey

and

Kristin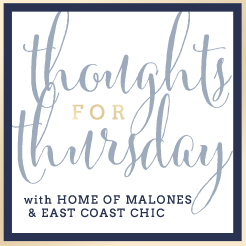 Linking up with Annie and Natalie
Labels: my life