Good morning, sweet friends! Today, I'm full of nervous excitement for the beginning of a new year with students. This year is a little different, as I'll be at my new school for an entire school year. I saw this quote this weekend and stopped dead in my tracks. It was exactly what I needed to see at the beginning of this year.
I'm going to keep this short and sweet, because frankly, I'm writing it while I'm waiting for my boiled eggs to cool off so I can finish packing my meals for tomorrow.
This weekend, DG and I got a lot accomplished around the house, with of course not pictures to prove it. We're in the middle of several projects at once, so I'll keep you posted. I did finally put up a wreath on our door that I made. I used Annie Sloan's Duck Egg to continue my obsession (
part 1
&
part 2
linked if you missed those).
My French press came in and I ordered coarse ground coffee to try out. I ordered The Coffee Fool's
Italian blend
, and it's not as dark as I normally like, but man is it still delicious! Several of you asked for my opinion on my French press and I'll be honest. I ordered a small one from Target to see if I would A) like it and B) actually use it.
This
is the one I ordered, and it was affordable and so far, I'm impressed!
Sunday, DG and I took care of things around the house, like cleaning out our pantries, doing loads (and loads) of laundry, and other things that make us feel better about starting a new school year. We then ran out to dinner at Bonefish before heading to the grocery store. I channeled my inner
Biana
and ordered a lobster roll and it was delicious!
Hope y'all have a great week! For my teacher friends, good luck with new school year! Be sure to link up with
Biana
and me and let us know all about your weekend!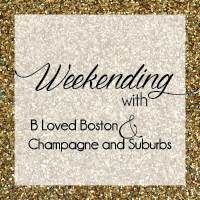 Labels: my life