Hey y'all! I'm back and as rested as I think I can be. As you know, last weekend, I got a little disrupted with my weekly routine and I never really got back on track. So, for starters, I'd love to recap my Saturday lunch date!
Last Saturday, my girl Owen came up to Raleigh and was going to join in on outfit pictures with Em, but we got rained out. She and I still met up for lunch at Side Street Cafe and it was delicious. It was always so good to see Owen! She and I are real life friends who lost touch and got back in touch thanks to our blogs. If you've never read her blog, be sure to pop by. I absolutely adore her and her honesty, positivity, and general style.
And now to jump into this week's recap.
Thursday night, I met my newlywed friend Mare for dinner at Mez in Durham.
These chicken tinga tacos are seriously so delicious. If you're in the area, head over there and try them out.
Friday night, I worked late, but DG and I met for garlic knots and pizza at our local pizzeria.
Saturday, I got to sleep in a little bit, and I felt completely rejuvenated because I was able to plan my week. I even got a jump start on holiday gift guides. Can you believe that it's almost November? The weather was perfect in North Carolina for fall and my beloved Pirates were on TV for homecoming. It was the perfect afternoon.
Shop my favorites here:
Saturday night, we went to a fall themed party complete with pumpkin treats and pumpkin carving. It was such a blast and I got to catch up with some of my former co-workers.



Shop my look here:

-+

And Sunday, I woke up, finished my week preparations, and snuggled with the boys and a lot of coffee. I headed in to work for holiday decorating and home to do some work. It was a great balance after a crazy week. And of course, I got in a few more snuggles.
How was your weekend? Link up and tell Biana and me all about it. I don't know about you, but I can't wait to read Biana and Amanda's recap of their trip to NOLA!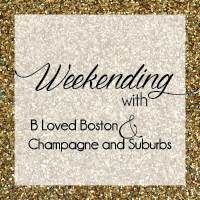 P.S. After a week away, I'm so excited for this week's posts. I hope you'll stop back by and check them out!
Labels: my life