(via)
Hey y'all! Happy Monday! I hope you had a great weekend. If you lived on the east coast, you may have had a wet one as a result of Joaquin. My thoughts and prayers were with South Carolina this weekend. It has been dreary and windy here, and we lost a couple of trees in our back yard yesterday. Thank goodness no one was injured, but still scary.
The good thing about having a cool, rainy weekend is that I was able to be productive. That unfortunately means I don't have a ton of pictures to show for it. I swear, I go through cycles where I just forget to take pictures. Here's what I did capture.
Thursday night, I was supposed to catch up with Angela, but we ended up literally rain checking because of the storm. Before I headed back, I popped in to a couple of shops in downtown Raleigh, including High Cotton Ties. I made a Christmas list for DG while I was in there and had the best conversation with the co-owner, James.
Friday was a crazy day where I worked 14.5 hours, so I don't have a lot to show for that.
On Saturday, I took care of items around the house I've been putting off and I caught up on emails, blog reading, and some homework for an online course I'm currently taking. That evening, DG and I went to our friend's annual Oktoberfest. This is where I'm telling you I dropped the ball on photos. I didn't get a single one.
However, DG and I went out to dinner at
Aviator
, and I had my favorite meal. You know, vinegar based BBQ, mac and cheese, and mashed potatoes and gravy. It was delish!
Sunday, I busted out my new buffalo necklace I picked up from
Modern Nostalgia
last weekend.
Shop the rest of the picture here:
DG and I finished up some things around the house and then we went out to run errands. While we were out, he decided he wanted to pick up a lottery ticket.
I kinda love that NC has a lottery ticket dedicated to BBQ. Not even gonna lie.
Spoiler: We didn't win. *le sigh*
Other than that, it was a quiet weekend.
Link up and tell
Biana
and me all about what you were up to this weekend. Don't forget to link back to both of us and use our button!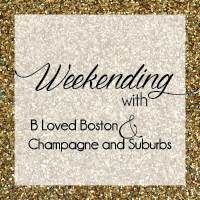 I love KushyFoot for legwear no matter what season. But this year, their fleece trouser socks are my favorite. These are perfect for the cooler temperatures, or for my office, which is always cold. I also love the options for fashion tights, especially the shaping tights. I also adore the travel flats. I wish I had received them before last weekend's wedding! Those flats are so convenient and fit discretely in clutches. Perfect for a night out. The best part about all the products included here is that they are all made for comfort. I hate wearing leg wear, but when it gets cool out, it's so nice to have options that are not only comfortable, but fashionable.
So now is your turn to enter to win a goody bag from KushyFoot.
Winner must be 18 or older and live in the continental United States. Winner will be sent a duplicate of my products. Substitutions are unlikely but could apply. Samplings will be in medium and large and flats will be women's size 5-10. Contest will run until October 19th at 6:00AM. Winner will have 24 hours to claim prize before another winner will be randomly selected.
a Rafflecopter giveaway