(via)
Happy Monday! This is another weekend that the plans I had were re-arranged. I haven't quite been able to shake that bug that I had a couple of weeks ago. I used the weekend to really recouperate and clean up for the week ahead!
If you follow along on Instagram, you may have seen I did a few updates in our guest bedroom. Here's what it looked like last year so you can see how far it's come! And here's the post where I talked about some of our inspiration. To be more cost efficient, I painted the headboard and the lamps that we already had in there with Annie Sloan's Chalk Paint. DG built me that end table and will be building another while I'm at work Friday. File under: he's a keeper.
Shop the look here:
Here's where this week's post is a little different. I've recently gained quite a few new followers, so here's a quick introduction, and for those of you who have been here for a while, maybe a couple of new things about me!
I'm a 20-something living in a suburb of Raleigh, NC with my husband, DG, and our two dog children, Winston & Gizmo.
I chose the name of my blog as a little play on words. My friends all make fun of me for my "champagne taste on a beer budget" taste. For example: I went to the fabric store to get cushion and fabric for a window seat cushion I'm making. The cushion was $47 per yard, but I thought it was just $47. So when I got it custom cut, it ended up being $103. Thank goodness for a coupon, y'all! Needless to say, I had to wait on the fabric I wanted, since it was $32 a yard. Oops.
I'm really passionate about North Carolina and all that it offers. I am trying to shed light on parts of the state that are often overlooked, especially since a lot of those areas are figuratively dying out. Read more here.
I've gotten back into running after too long of a hiatus. Winston & Gizmo go with me and it has been great for us. DG and I are doing a turkey trot on Thursday and I just signed up for my 6th half marathon for the spring.
I am also incredibly passionate about public education, social equality, and rescuing animals. I don't always talk about those topics on here because I try to keep it light and airy, but if you ever want to chat or have questions, shoot me an email! And who knows? Maybe one day I'll feel more comfortable posting about those topics here.
Alright, y'all! Link up with Biana and me and tell us about your weekend!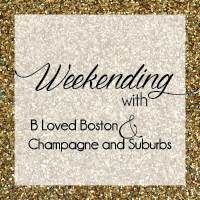 And p.s. don't forget to enter my May Designs giveaway!