(via)
This weekend took an unexpected turn from my original plans, and I'd be lying to you if I said it didn't up working out perfectly. Gizmo has been struggling with his anxiety recently, and instead of getting better, it's getting worse. So, Friday, I took him to the vet and made the decision to not stress him out more and put him in the car for a lot of traveling and a new environment at my parent's house without me. I was also going to head to the ECU game with my friend HJFH, but I couldn't find a sitter for the boys since DG was going to be out of town. It just turned out to be kind of a mess.
And to top it off, I ended up having some sort of 24 hour bug on Friday. The good news is that at the last minute, DG's weekend plans got cancelled because of the rain. I got all kinds of rest and relaxation on Friday, and then Saturday and Sunday were all kinds of productivity. I have a few pictures to show for it.
Here's a quick round up from my iPhone & Instagram. DG and I had pizza for dinner Saturday at Acme Pizza. Sunday, we brunched at Bagels Plus. I got caught up on magazines, and ran some errands. I also got to wear my new necklace from belle. a signature collection.
Shop the rest of my outfit here:
I finally finished our gallery walls in our bedroom too. I am really pleased with how mine turned out.
How was your weekend? Link up with
Biana
and me for Weekending!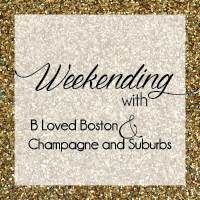 Labels: my life