(via)
Happy Monday, y'all! This weekend was a good, but busy one. I can't believe it's already the second week of December! I wish time would slow down just a tad.
Last week was a doozy for me, but DG and I had date night plans in Raleigh Friday. We headed to Poole's Diner to blow off some steam, but also to celebrate our engagement. Saturday was three years since we got engaged, and one of my favorite nights ever. I like to remember it because it's the only time DG has ever surprised me.
There are very few things that cure a long work week like Poole's macaroni and cheese. And that chicken and mashed potatoes? All the heart eye emojis.
Saturday morning, I got up early to run some errands and to finish decorating our Christmas tree before heading east to visit my parents. I love our tree because it combines various aspects of our relationship. That star topper is what we had on the first tree the first Christmas we were together. Our tree was tiny in our tiny apartment. And we bought a gazillion of the colored ball ornaments because we literally had no ornaments that were important to us. I love seeing how it's evolved over time.
I headed east to visit my folks, but to also get ready for a baby shower I co-hosted with my friend H. It was a beautiful day and it was so exciting to shower our friend L and baby CCW.
And just like that, it's Monday again! Here's my mantra for the remainder of 2015.
Link up with
Biana
and me for weekending!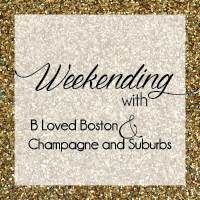 Hope you have a great week!
P.S. don't forget to enter the
giveaway
for Christina's blogiversary! And mine in the collaboration with
Madison Raleigh
.
Labels: my life