(via)
Good morning, y'all! I'm coming at you a little later than normal, in real time, with a cup of coffee in hand. These next two weeks probably won't be as relaxing as I hoped, but I'm sneaking in relaxation wherever I can.
Saturday was spent finishing up last minute wrapping so we can ship out to our family in Buffalo. I went into to work for a really busy Saturday. It is great that so many people are shopping local for their holiday shopping!
Sunday, I woke up and headed to Anthropologie in Durham for a wonderful holiday event. This is the unofficial recap of the event with an iPhone dump. I will be doing a more detailed follow up in the coming week. It was a beautiful event, and Morgan, Anthro's personal stylist for the Durham store, pulled out all the stops. Vent Salon was there to demonstrate three holiday hair styles, Bean Traders provided delicious coffee, and Videri provided chocolate for our favors. Danielle showed us great outfits for holiday parties, and we even snuck in the dressing room to try a few on.
Kate, Chelsea, Holly, Danielle, Shelby, yours truly
Shop my look here:
After the Anthro event, I headed in to work for a few hours. I went and picked up my buddy KP, and we headed to Neuse River Brewing to finally try Cousins Maine Lobster Food Truck. We've literally been wanting to try it since the summer, but there was no line! We were so excited. It was just as delicious as I had hoped for and the beer at Neuse River was great, too.
Now it's your turn to link up with Biana and me to tell us all about your weekend.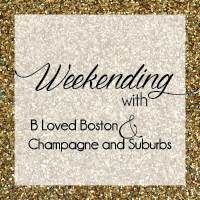 P.S. Did you catch yesterday's post? It's my holiday sangria recipe!