(via)
kHappy Monday, friends! Hope you had a fabulous weekend. Mine was full of time with friends and Sunday was incredibly productive. Two things I look forward to for the weekend!
Friday, I went and got a manicure at Paintbar. I cannot express how gorgeous and swanky Paintbar's space is. I'm obsessed with the manicure I got for the holidays, too! Stay tuned for it on Instagram and in my Friday Favorites!
After getting a manicure, my friend ECW and Kate went down to Sushi Blues Cafe for dinner in downtown Raleigh.
Saturday, I woke up bright and early to get some things done around the house. First up, wrapping our Christmas gifts in all the Rifle Paper Co. wrapping sheets!
I cleaned our house and ran a couple of errands, including mailing our Christmas cards. I am so impressed with
Minted
and their customer service! I highly recommend and will be using them for future events! I also used Rifle Paper Co. cards to tuck in the gifts we're mailing our out-of-state folks. And I am over the moon with these adorable Charlie Brown Christmas stamps!
Saturday evening was our 3rd annual tacky Christmas sweater party that I failed to get one single picture of for this blog. But it was a blast and I owe a special shout out to my buddy KP and my friend Clarke, for curling my hair and for arranging all of the food at the party when guests arrived!
I made a great holiday sangria and will be sharing the recipe on Sunday (thanks Clarke for also snapping this picture).
And I did manage to get a picture with DG, but it was on our
Instax
.
Sunday, I blew off all of my responsibilities for 2 hours and spent it outdoors with my two best guys. I cannot get over this 70 degree weather in NC right now, and I don't want to take it for granted. I'm afraid we're going to be pounded in February, so I'm trying to enjoy this all that I can. And the boys love going for walks and runs, so everyone wins!
I did manage to have a productive morning and afternoon despite my 2 hour hiatus from my to-do list. Here's a picture of my
CaseApp
phone case I told y'all about on Friday. Don't forget you can get 20% off a custom phone case using code
CHAMPAGNESUB20
.
Please tell me you notice the photobomber.
How was your weekend? Are you done with your shopping?
Link up with
Biana
and me for weekending!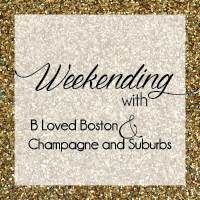 Don't forget to enter the giveaway with The Flourish Market!
Labels: my life