(via)
Happy Monday, y'all! And Happy February! I am still playing catch up from the winter weather we had last week. Meetings and trainings got switched around, but I'm hopeful this week will be back to normal. Let's jump into this weekend's recap.
Friday, I busted out my newest Rachel Tenny print for the weekend.
We headed out to dinner at our favorite local pizza shop. Their garlic knots are just too good.
Saturday morning, DG and I got up to head east to the annual oyster roast.
I love getting to see friends and family and catching up. My oldest friend in the world and her husband are always there, so I look forward to seeing her.
Sunday, DG and I got up and headed back so I could get things done around the house. I went to an estate sale hoping to find some furniture, and I didn't find quite what I was looking for, but I had a blast. I had DG stop for Bojangle's, because y'all, it's just so much better in eastern NC than anywhere else.
I signed up to do a Valentine's mail swap, and my adorable mail camp from Kellie.
How was your weekend? Link up and tell Biana and me all about it!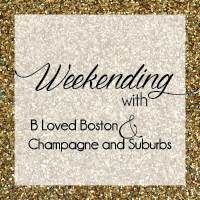 Have a great Monday!
xo