(via)
Y'all, let me just tell you that this weekend was perfect. For my birthday, DG got me tickets to The Lion King at DPAC in Durham. I am really feeling Durham these days so we made a night of it with dinner first. Saturday, we went on a walking tour of Historic Oakwood in Raleigh. And Sunday, my BFF was in town so we met for brunch and mimosas before she flew back to Tampa. I paused at one point and thought about how much more I'm enjoying my time now that I'm not being pulled in a gazillion different directions.
Friday night, we headed to Basan for dinner prior to the show. I tried Basan the first time for my birthday and was so impressed. It's such a convenient restaurant for DPAC shows but also for Bulls games. Their sushi is delicious and if you're there the night of a show, they give you 10% off your tab if you show your tickets.
It's a short walk from Basan to the show, but we got to catch a pretty sunset over the American Tobacco Campus.
I've mentioned before on here, but I cry a lot during The Lion King. So, we got our picture taken prior to the show starting before my make up got smudged.
You've seen this dress before
here
.
Remember, use ChampsandBurbs for free shipping!
If you follow me on Snapchat (@mbg0112), you saw lots of snaps from our tour of
Historic Oakwood
. My inner history nerd was loving it. Part of my
winter bucket list
was to explore more of Raleigh, and I made this happen just in time. It's such a beautiful part of Raleigh and so full of history. It also proves the point that history should be preserved because a lot of the houses were moved from their original location by the City of Raleigh to make room for office buildings.
Saturday was also Anthro's card member 20% off sale. I can't wait to share with you some of items I picked up. I linked some of my favorites in
this post
Saturday.
Sunday, my BFF and I met at
Beasley's Chicken & Honey
. It's no secret that I took her to Beasley's on purpose so that she'd be even more motivated to move back to North Carolina. Ironically enough, we made plans on Friday for brunch this weekend during the intermission of the show. As I was putting my phone away, I ran right into her mom.
See this story
to see why I find this ironic. Either way, it was fantastic to spend time with her and I have major positive vibes out that she'll move back soon.
How was your weekend? Be sure you link up with
Biana
and me to tell us all about it!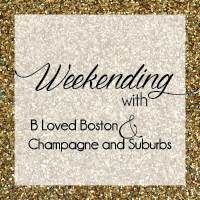 xo