(via)
Happy Monday, friends! This weekend was a beautiful one. Despite some yucky weather Friday night and sporadically Saturday, it was a great one. I'm so excited to recap it with you.
Friday night, I met up with two of my buds and our 2 tall Chicago girls for dinner and drinks. We started at William & Company. It's in one of my favorite parts of Raleigh and such a fun place.
Shop the look here:
After William & Company, we went to Cave 1912 for dinner. The food and drinks were delicious and it was a great spot for a girls' night. We had fried green tomatoes and a cheese plate for apps. I ordered the steak because it came with fried oysters. And then we had two different types of dessert. One was bread pudding, which we ate before we could snap a picture. The other was a rhubarb dessert with strawberries and banana ice cream. We also loved that they featured a painting with a cover of Highlights for Children since we were all teachers.
Saturday, I attended my sweet friend ASM's baby shower. She is due in June and I am so excited to meet her baby girl.
I spent the rest of Saturday relaxing. I've been going non-stop recently and just needed a break. It was really the best because it rained off and on. I find napping to be the best on those types of days.
Sunday, I met my buddy KP at The Wine Feed for the Hook & Vine Festival. I have been SO looking forward to this because Vivian Howard from The Chef & the Farmer had her new restaurant, The Boiler Room, there and I was over the moon. I didn't have a single dish I didn't enjoy and the vino was delicious. It was one of my favorite Raleigh events to date.
Shop my look here:
I also got my
Birchbox
+ Rifle Paper Co. collaboration box.
I spent the rest of the evening with my two furry boys.
How was your weekend? Link up with
Biana
& me and tell us all about it!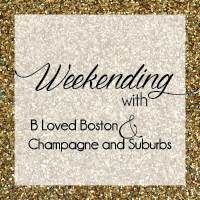 *affiliate links used